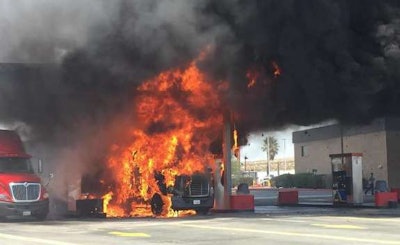 The investigation continues into a fire Monday afternoon that appears to have destroyed two tractor-trailers and three fuel pumps and damaged the metal awning at a truck stop in southcentral California.
The Victorville Daily Press reports the fire broke out about 1:20 p.m. at the Travel Centers of America truck stop on Lenwood Road off of I-15. It appears a fuel pump caught fire. Two trucks, including one loaded with glass, were at the pump at the time of the blaze.
Anthony Riley, public information officer for the City of Barstow said it took firefighters about 45 minutes to control the blaze. Two fire engines from the Barstow Fire Protection District were on hand, and one engine from the Marine Corps Logistics Base in Barstow.
Riley said there were no injuries reported.
He added, "Truck fueling on the backside of TA is down for an undetermined timeframe."