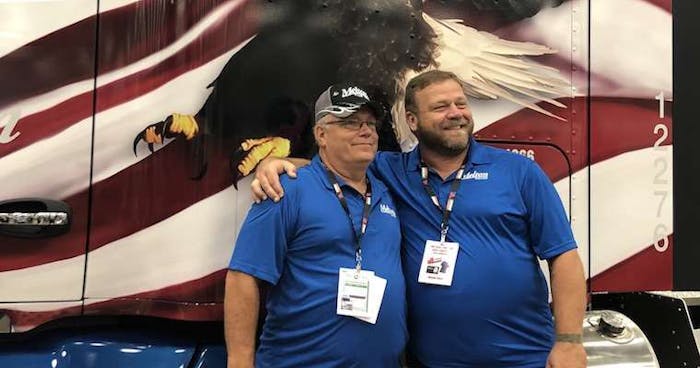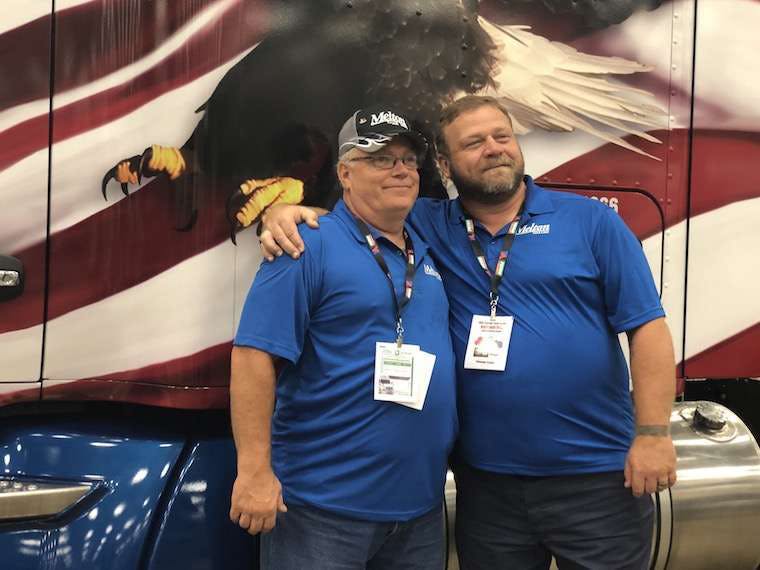 Melton Truck Lines awarded two of its company drivers military-wrapped trucks during a presentation at the Great American Trucking Show last week in Dallas.
The drivers had to submit an application in order to be considered to drive the trucks. Drivers David Teegarden and Donnie McCuddy were announced as winners.
"Today we are awarding two of our great Melton veteran drivers with this beautiful Melton wrapped truck. We have two of them to give to drivers to drive and so we're excited to let you guys know who that is," said Marilyn Surber, Melton's employee services manager, during the presentation at GATS.
McCuddy has been a truck driver for over 20 years, with the last four of those spent at Melton. Before he became a truck driver McCuddy served in the U.S. Navy. He has been a driver trainer for Melton for the last three years.
McCuddy knew he was a runner-up for the trucks but was overwhelmed when he found out he'd been selected as a winner.
"I've already had in my mind to retire from Melton. I'm already 51 years old and haven't found a better outfit to ever work for, but when they presented this with me, this was just the icing on the cake," McCuddy said. "This is a great honor. It truly is."
Teegarden's wife, Debbie, submitted his application and nominated him for the award. He said it's amazing to be recognized for his military service by his company. He served four years in the Marines as a truck driver. He did an additional two years in the Reserves and then spent additional time in the Army National Guard. He's been driving since 1984, with the last four of those years spent at Melton.
"It's going to be awesome. I'm very proud. It's going to be a proud time," Teegarden said about driving the military-themed truck.
The trucks are decked out with features, including a 76-inch mid roof sleeper, 455 HP PACCAR MC engine, power windows, front disc brakes, built-in refrigerator, TV install package, double bunk, headache rack with chain box, quiet cab package, telescoping tilt steering column and solar panels for battery charging.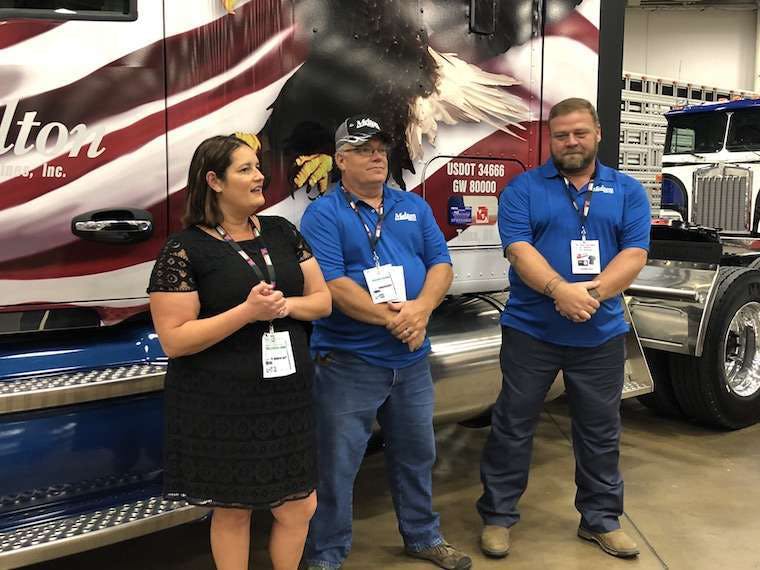 Marilyn Surber, Melton Truck Lines' employee services manager, announced David Teegarden, left, and Donnie McCuddy, right, as the winners of the trucks during GATS.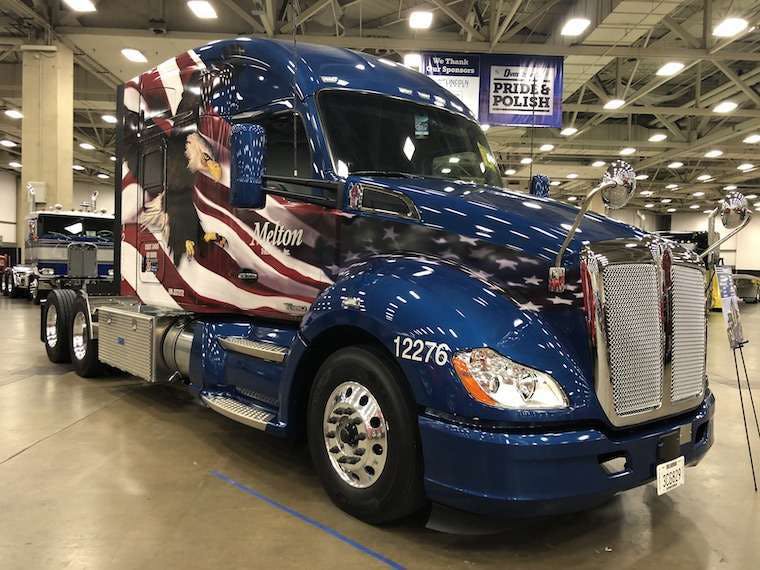 Melton announced two new drivers as drivers of two of its military wrapped trucks.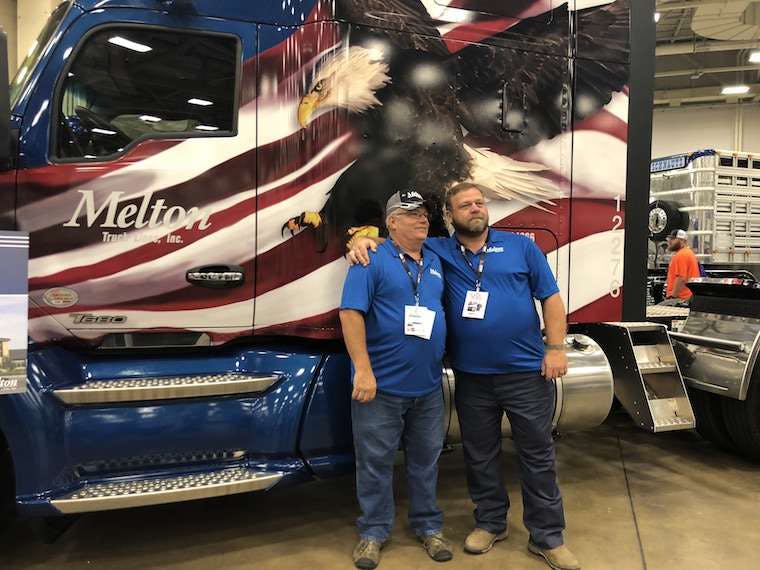 Teegarden, left, and McCuddy, right, are both military veterans.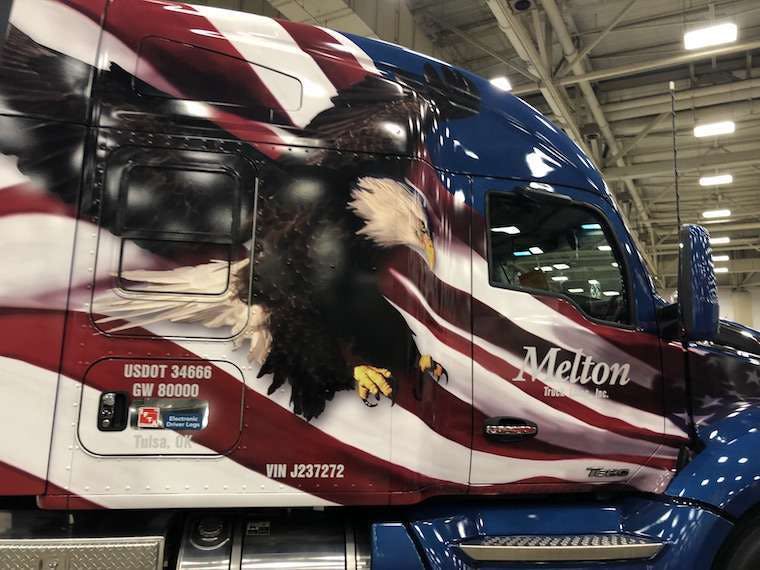 The trucks feature an American flag and Bald Eagle.