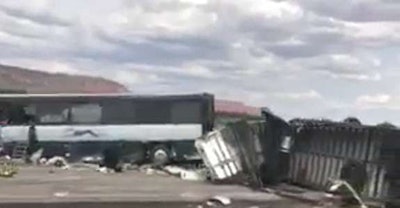 A tire blowout on a tractor-trailer is being blamed for a head-on collision between a truck and a nearly-loaded loaded Greyhound bus Thursday on I-40 in New Mexico that left seven people dead and many more injured.
New Mexico State Police say a tire blew out causing the eastbound tractor-trailer loaded with produce to cross the median and collide with the bus, which was westbound from Albuquerque to Phoenix. The collision occurred at about 12:30 p.m. near mile marker 50 in McKinley County, about 100 miles west of Albuquerque.
A statement from the state police said: "the majority of passengers were transported to area hospitals with varying degrees of injuries." The driver of the semi-truck, who was not identified, sustained non-life-threatening injuries in the crash, according to the statement.
The NMSP added, "The National Transportation Safety Board arrived later on (the) scene and will be conducting an investigation along with the New Mexico State Police Crash Reconstruction Unit. This incident remains under investigation."
Trucker Mike Baumann shared this video from the crash scene:
Preliminary crash information indicates a semi-tractor-trailer traveling on I-40 EB had a tire blowout and crossed into oncoming WB traffic, colliding with a Greyhound bus.@nmstatepolice pic.twitter.com/ayDmhjju31

— Rob Quirk (@KOAARobQuirk) August 30, 2018