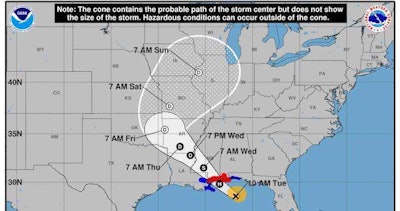 Alabama Gov. Kay Ivey this morning declared a State of Emergency for several Alabama counties as Tropical Storm Gordon draws near.
The State of Emergency affects the following counties: Baldwin, Choctaw, Clarke, Conecuh, Escambia, Mobile, Monroe, and Washington.
The Alabama Trucking Association posted a notice about the declaration, adding that the proclamation "relaxes hours of service requirements for drivers hauling emergency aid or equipment to affected areas." The association advises drivers involved in relief efforts to print a copy of the proclamation and keep it with them in their cab at all times.
The National Weather Service expects the tropical storm to become a category one hurricane later today as it makes landfall. People traveling through or living in coastal counties are advised to get to a safe place by early afternoon and stay there through Wednesday morning. Tropical Storm Gordon is forecast to produce heavy rainfall, flash flooding, and tropical storm force winds, according to Gov. Ivey's declaration.
"As with any tropical weather event, being prepared is of utmost importance. Everyone should take the necessary precautions now and stay informed of the latest weather conditions for their area. This State of Emergency will ensure that all available state resources are ready when they are needed," Ivey said.
Real time Alabama road conditions are available online.