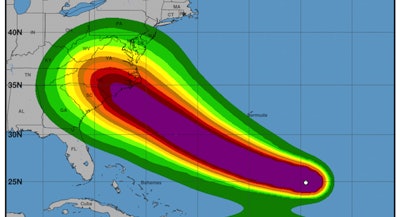 The incoming threat of Hurricane Florence has led North Carolina, South Carolina and Virginia to declare states of emergency in preparation.
Hurricane Florence is forecast to make landfall on the U.S. East Coast Thursday night as a major hurricane. The storm's track is uncertain, but several states are already readying resources in advance. Hurricane Florence is currently a Category Four hurricane with sustained winds of 130 miles per hour.
North Carolina Gov. Roy Cooper declared a State of Emergency Friday, Sept. 7, temporarily waiving hours of services restrictions for trucks and heavy vehicles traveling throughout the state. The declaration also waives size and weight restrictions for trucks carrying crops and livestock, to help move those loads easily throughout the state in response to problems the hurricane may cause.
Virginia Gov. Ralph Northam also declared a State of Emergency Saturday, Sept. 8. South Carolina Gov. Henry McMaster also declared a State of Emergency the same day.
"This storm is too powerful and its path is too uncertain to take any chances," Gov. McMaster said. "We are mobilizing the state's resources to make sure we are prepared, and the people of South Carolina must not hesitate to prepare for the possibility of a hurricane impacting our coast."
The National Hurricane Center on Monday advised that Hurricane Florence could cause a life-threatening storm surge along eastern coastlines, including South Carolina, North Carolina, and Virginia. The center warned that freshwater flooding and prolonged, heavy rainfall is likely over the Carolinas and Mid-Atlantic. The South Carolina and North Carolina coastal regions should also anticipate damaging winds, which could spread inland in the Carolinas and Virginia.
Two other storm systems are forming in the Atlantic. Hurricane Helene is forecast to turn and stay at sea, not affecting land. Hurricane Isaac is expected to arrive in the Caribbean later this week.