Forecasts earlier today say Hurricane Florence could pound the Southeast Coast for days, not hours, after making landfall Thursday.
At 11 a.m. today Florence was located about 485 miles southeast of Wilmington, North Carolina or about 520 miles east-southeast of Myrtle Beach, South Carolina. Maximum sustained winds are 130 mph, and Florence is moving to the northwest at 15 mph. Florence is forecast to slow down considerably as it approaches the coast of North Carolina or South Carolina on Thursday and Friday and move slowly near the coastline through Saturday.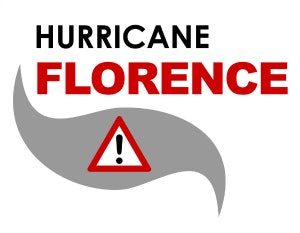 "This will likely be the storm of a lifetime for portions of the Carolina coast," the National Weather Service in Wilmington, North Carolina, wrote in its Tuesday evening area forecast discussion. A Wednesday morning forecast said flooding in southeast North Carolina and northeast South Carolina could be "unprecedented".
Aside from mammoth storm surges, Florence's rain is expected to produce considerable flooding along the coast and inland. According to the National Hurricane Center, Florence is expected to produce the following rainfall totals:
Coastal North Carolina: 20 to 30 inches, with isolated totals up to 40 inches
South Carolina, western and northern North Carolina: 5 to 10 inches, with isolated totals up to 20 inches
Elsewhere in the Appalachians, Mid-Atlantic States: 3 to 6 inches, with isolated totals up to 12 inches
Many of the coast states remain under states of emergency. As a result, the Federal Motor Carrier Safety Administration has issued a regional emergency declaration for 11 East Coast states and Washington, D.C.
FMCSA's declaration includes Florida, Georgia, South Carolina, North Carolina, Virginia, West Virginia, Maryland, New Jersey, Pennsylvania, New York, and Delaware, along with D.C. The declaration exempts truck drivers providing direct support of relief efforts related to the hurricane from Parts 390 through 399 of the Federal Motor Carrier Safety Regulations. The declaration is effective immediately and will remain in effect through the duration of the emergency, or through Oct. 10, whichever is less.
Pilot Flying J expects its stores in the path of the storm to stay open for truckers and other customers as well as first responders. A statement today from Stephanie Myers, PFJ's supervisor for external communications, said:
As Hurricane Florence continues to strengthen and make its way toward the East Coast, Pilot Flying J travel centers will remain open as conditions permit to serve the local communities and first responders. With mandatory evacuations underway, our top priority is the safety of our guests, team members, and vendors.
Pilot Flying J's Support Center Emergency Response Team will be monitoring conditions closely in the coming days and will coordinate operations and provide 24-hour support. For updates on store operations and closures, visit https://www.pilotflyingj.com/severe-weather-updates/ or follow Pilot Flying J on Facebook and Twitter.
Our thoughts and prayers are with the many locations, team members, guests, neighbors and business partners who will be affected by the storm in the coming days.
In light of the magnitude of Hurricane Florence, Sirius/XM radio is making The Weather Channel accessible to all Sirius/XM radios even if you do not have a subscription. Tune to channel 145 for continuing coverage.