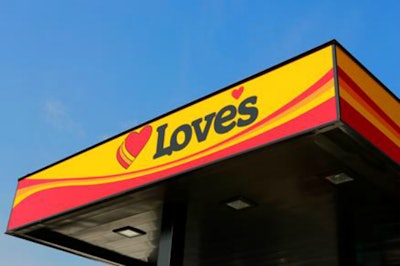 Love's Travel Stops (Love's) will open a new travel stop Wednesday morning in Bastian, Virginia, to help the community and customers in the path of Hurricane Florence. Store teams have been working around the clock to make sure the store, located at 6168 N Scenic Highway (Interstate 77, Exit 58), will open earlier than scheduled to provide fuel, food, and supplies to that area.
The more than 10,000-square-foot facility will be open 24/7 and is the 11th Love's location in Virginia. It has:
51 truck parking spots
seven showers
laundry facilities
an Arby's restaurant
"We opened our location early so we can take care of customers preparing for Hurricane Florence," said Tom Love, executive chairman and founder of Love's. "Our new travel stop in Bastian will provide a fuel option for those evacuating or braving the storm. We look forward to serving the people of Bastian and travelers by being a community partner in times of need and always along Interstate 77."
Love's is monitoring the latest developments as Hurricane Florence marches toward the South Carolina, North Carolina, and Virginia coasts. The company is taking precautions and increasing fuel and food deliveries at Love's locations in advance of the hurricane. You find updates about our locations during the storm on Facebook, Twitter, and loves.com/hurricane.