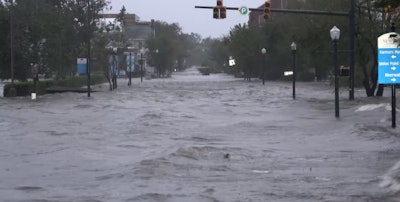 Hurricane Florence made landfall near Wrightsville Beach, North Carolina early this morning as a slow-moving Category 1 hurricane. The National Hurricane Center said an observation site at Cape Lookout, North Carolina recorded a sustained wind speed of 59 miles per hour and a gust up to 79 miles per hour.
As the storm creeps across the Southeast, here are seven things to know:
1. Forecast: Hurricane Florence is expected to continue to be a slow-moving storm, dumping large rain amounts on portions of the Southeast. As of 1 p.m. ET, the center of the storm is continuing to slowly move westward toward the North Carolina-South Carolina border. It's weakening as it moves inland but is still forecast to cause torrential rain, hurricane-force winds, and massive storm surge.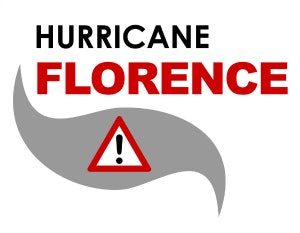 An 11 a.m. advisory from the National Weather Service warned that flash flooding and prolonged, significant river flooding will likely continue over the Carolinas and the southern and central Appalachians through early next week. The flash flooding is expected to worsen today across southeast North Carolina and Northeast South Carolina.
Portions of North Carolina are experiencing hurricane-force winds and those winds are forecast to affect the South Carolina coast this afternoon. It is also possible these strong winds could move inland. A life-threatening storm surge is happening along parts of the North Carolina coast, according to the National Weather Service. The storm surge is forecast to continue throughout tonight and is also likely along parts of the South Carolina coast.
2. Truck Stop Closures: Hurricane Florence is having an impact on some truck stops in the affected areas, prompting several closures. At the time of publication, one Pilot Flying J location in North Carolina and two locations in South Carolina are closed. Pilot Flying J is maintaining a list of closed locations online. Love's Travel Stops has currently closed three locations in North Carolina and three in South Carolina. A list of Love's locations that are closed due to the storm, as well as locations in high threat and low threat areas, can be found online.
3. Emergency Declaration: The Federal Motor Carrier Safety Administration issued a regional emergency declaration earlier this week affecting 13 states and the District of Columbia.
4. Road Conditions: Widespread flooding is affecting major routes in North Carolina from the Outer Banks to Eastern North Carolina, east of the I-95 corridor. The North Carolina Department of Transportation is currently not advising driving through affected areas. Road conditions in North Carolina can be monitored on NCDOT's website. Similarly, the South Carolina Department of Transportation maintains an interactive road conditions map online.
5. Staying Health-Conscious: The last thing you want is to find yourself stranded due to flooded roads or deteriorated travel conditions without your medications. If you are in the affected storm area or may have to take freight into the area, the American Heart Association recommends writing down all of your medical information, including: medications, medical conditions, allergies, doses and times you take medications, as well as your preferred pharmacy's name, address and phone number. AHA also recommends getting replacements for your medications if you think you may need them. In North Carolina, you have 29 days after a disaster declaration to get a recently filled prescription refilled or replaced. Georgia and South Carolina both allow for 30-day refills of certain medications.
6. Weather and Traffic App Upgrade for Free: The folks at PC*Miler are offering complimentary access to the premium level of the app. Truckers can use it to plan routes around the traffic and weather. Details and access instructions can be found online.
7. Tropical Threat Brings Risk of Flooding to Texas: Parts of Texas may experience widespread flooding as a tropical disturbance heads inland from the Gulf of Mexico through tonight, reports AccuWeather. The forecast calls for heavy rain from the coast to I-35 corridor.