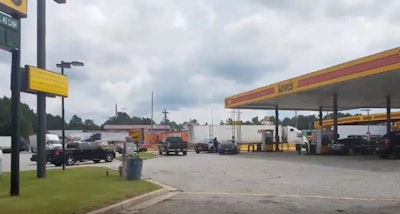 Police in a Georgia county south of Atlanta will not press charges against a truck driver who shot another trucker over a dispute at a fuel island Thursday, saying the shooter acted in self-defense.
The drivers, who have not been identified by the Butts County Sheriff's Department, were parked near the fuel island of the Love's Travel Stop off Interstate 75 at Georgia Highway 36 about 1 p.m.
The Jackson Progress-Argus reports that "investigators learned the driver who was shot had confronted the driver of the truck ahead of him at the pump, and a verbal altercation ensued. During the altercation, the driver of the rear truck returned to his rig and produced a gun … At that point, the driver of the truck at the pump (who had followed the other driver to his truck) opened fire into the man's cab, striking him as many as three times."
Sheriff Gary Long said statements by the two truckers and witnesses as well as audio and video from the victim's dash cam demonstrate self-defense.
The wounded driver was flown to a hospital in Macon, Georgia.
While the sheriff's department did not press charges, the county district attorney still can.