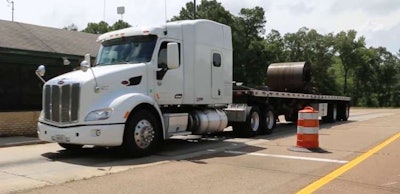 With yet another inspection blitz looming, the Commercial Vehicle Safety Alliance released the results of its International Roadcheck inspection and enforcement initiative, held June 5-7.
The alliance said enforcement officers:
Conducted 67,502 roadside inspections on trucks and buses in the U.S. and Canada

Placed 11,897 vehicles out-of-service (26 percent of all vehicles inspected)

Placed 2,664 drivers out-of-service (3.9 percent of all drivers inspected)
According to the alliance, the top three out-of-service vehicle violations were for brake systems (28.4 percent), tires and wheels (19.1 percent) and brake adjustment (16.3 percent).
Of all driver out-of-service conditions, the top three were for hours of service (43.7 percent), wrong class license (21.4 percent) and false record of duty status (10.1 percent), according to the alliance.
Each year, special emphasis is placed on a certain category of violations. This year's focus was on hours-of-service compliance, according to the alliance.
The CVSA's Brake Safety Week begins Sunday and runs through Saturday, Sept. 22.
The alliance says that during an inspection if an inspector identifies critical inspection items on a vehicle with specific violations, he or she will place the vehicle out of service. The mechanical defects must be corrected in order for the vehicle to be permitted to proceed. A driver found to be in violation of the conditions in the out-of-service criteria, will be placed out of service until the condition can be rectified.