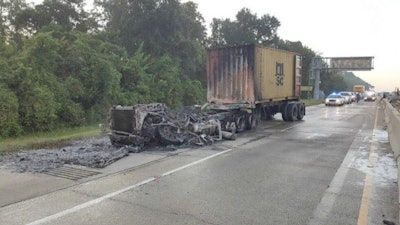 A 55-year-old trucker from Louisiana was arrested following a fiery crash on Interstate 10 in Louisiana last week.
Louisiana State Police say Freddie Jackscon, Jr. Saturday morning was driving a Freightliner that struck a guardrail and construction barrier and burst into flames. Jackson escaped the fire and was taken to a nearby hospital for treatment.
During their investigation, troopers said Jackson showed signs of impairment and was charged with DWI. He was booked into the Ascension Parish Jail, which is southeast of Baton Rouge.