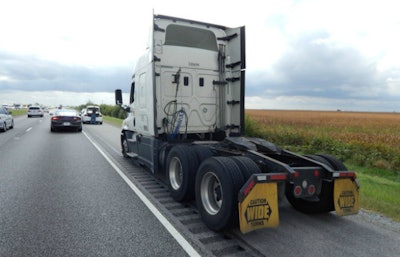 An Indiana man was arrested Friday after leading state police on a 20-mile chase along I-65.
William E. Tumey, 38 of Martinsville, Indiana, was arrested and taken to Franciscan Hospital in Rensselaer for a toxicology blood draw Friday afternoon following the incident, according to a statement from the Indiana State Police.
In a statement Friday afternoon, the troopers said that about 10:54 a.m., they received a call of a reported 2017 Freightliner tractor driving recklessly southbound on I-65 at the 240 mile marker (Lowell exit). Some minutes later it was reported this same truck was now at the 224 mile marker, according to the troopers. Master Trooper Glen Fifield was at the 218 mile marker and watched the truck drive off the right side of the roadway onto the shoulder as it approached him. When Fifield got behind the truck he observed it weaving, driving off the right side of the road onto the rumble strips, then back across the roadway to the left, all erratically and with sudden movements.
Trooper Fifield activated his emergency lights and siren on his unmarked car in an attempt to stop the truck. The Freightliner continued to drive south without stopping for 11 miles, said the troopers. During this entire time, the truck continued to drive off the road and then back on.
Trooper Kim Zelnis was able to get in front of the truck with her lights and siren on.
The troopers' statement said Zelnis sped ahead two miles and threw out stop sticks at the 205 mile marker which Tumey avoided. Master Trooper Martin Benner, who was off duty at this time, heard the pursuit and was able to set up stop sticks at the 203 mile marker. The Freightliner struck the stop sticks with both its front tires. The truck continued southbound until the 198 mile marker where the front left tire deflated and it came to a stop. Troopers made a felony stop and took Tumey into custody without incident.
The troopers said Tumey was incarcerated at the Jasper County Jail in Rensselaer, Indiana and charged with multiple traffic violations and resisting law enforcement with a vehicle, a level 6 Felony.