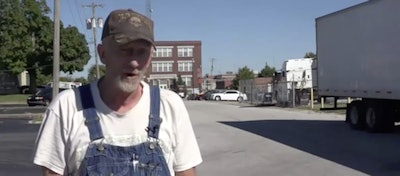 A St. Louis truck driver helped cops end a high-speed chase in Springfield, Missouri, Sept. 26 when he pulled his rig out to block the rogue car's path.
The truck driver, Derek Cook, said he was getting ready to make a turn when he saw the police pursuing a car in a high-speed chase. Cook pulled out to block the intersection and the car's driver crashed into his rig, causing some damage that Cook estimates will cost about $600 in repairs.
"I thought I would just pull out there and put a whoa on it. Around about two seconds later, he hit my truck and I felt a little push," Cook told KY3 in an interview. "Then it swung him around to the curb and he waited there for two or three seconds. Then, got out there and ran."
The suspect fled on foot but was captured and arrested by Springfield Police Department officers. The suspect was identified as 18-year-old Malachi Okonu and he was charged with robbery and resisting arrest, among other charges, reports KY3.
Cook told KY3 that police are his heroes and he just wanted to help.