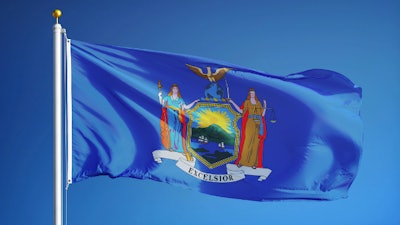 The New York State Department of Motor Vehicles making it easier for professional drivers to access important information for the state's commercial drivers.
Beginning this month, Commercial Driver License and Commercial Learner Permit holders can sign up for electronic notifications to alert them when it is time to renew their medical certifications. In addition, the state's 425,000 CDL holders and more than 16,000 CLP holders can access copies of their driver abstracts, or driving records, through the department's online MyDMV program.
"We all depend on the work of commercial drivers when our children take the school bus, when we utilize public transportation, or when we shop in stores or online," said Terri Egan, DMV executive deputy commissioner. "Commercial drivers are vital to our economy and our way of life. The DMV is excited to launch these initiatives to ensure that they do not miss important deadlines, and to allow them to get the information they need on their own driving records quickly and easily."
To make it easier for drivers to know when it is time to renew their medical certificates or variances, they are now able to sign up for email and/or text notifications. Once they complete the renewal process, they will get a second alert confirming their certificates or variances have been updated. If they do not update their documents by the deadline, CDL and CLP holders will receive an alert that their license or permit has been downgraded.
Drivers who want to take advantage of this feature can enroll in the Electronic Reminders system by completing the electronic reminders form. Once they do, drivers will receive all types of notifications sent through the system. This includes license and registration renewal reminders and notices when their vehicle inspection is about to expire. Drivers who are already receiving electronic reminders and want to continue receiving them do not need to do anything.
In addition, CDL abstracts are now available through MyDMV. This will give drivers more convenient access to their driving records. The CDL abstract shows expanded driver history information that is not available on a standard driving record. This includes the record of convictions, suspensions, revocations and other licensing actions. Medical certification information is also provided.
For more information about DMV, visit www.dmv.ny.gov.