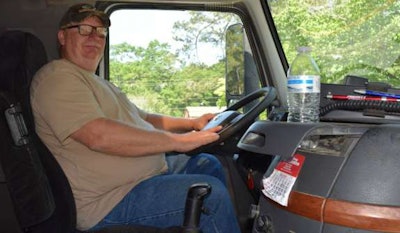 "Joey Woodle has wanted to be a truck driver since he was a little boy, but until recently, one major hurdle was standing in his way – he is deaf and unable to pass the whisper test portion of the DOT physical."
That's Matt Cole writing for Overdrive about a man who overcame an obstacle to have his dream come true. Cole continues:
"Woodle, a 50-year-old from Huntsville, Alabama, grew up in a trucking family. His father and uncle are both truckers, and he said he rode along with them and grew to love trucking at a young age.
"He obtained his Class A CDL in Alabama on Wednesday, May 9, after passing his skills test. He is one of the first deaf people in the state to obtain his Class A license in the five years since FMCSA began granting hearing exemptions.
"'I thought it was really interesting, and I thought 'well, I can do that too,'" Woodle said through an interpreter. My dad taught me a lot of different things about trucking, and it really got me excited and motivated, and I really hoped I'd be able to do it even though I was deaf.'"