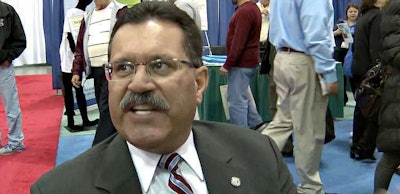 The Federal Motor Carrier Safety Administration finally has a new leader.
Raymond Martinez was confirmed Tuesday by the U.S. Senate by a voice vote, almost five months after being nominated by President Trump.
Martinez most recently served as head of the New Jersey Motor Vehicle Commission. He also ran the New York State Department of Motor Vehicles in the past. Martinez was Deputy U.S. Chief of Protocol and Diplomatic Affairs for the U.S. Department of State and the White House. He served under Presidents Ronald Reagan, George H.W. Bush and George W. Bush. He also served as assistant general counsel for the Long Island Power Authority, and as deputy chief of staff and special counsel to the New York State Attorney General.
A major CDL training organization praised Martinez's conformation.
Commercial Vehicle Training Association President and CEO Don Lefeve said, "We applaud the Senate's confirmation of Mr. Martinez as the FMCSA's Administrator. We look forward to working with Administrator Martinez on issues affecting commercial driving schools, the growing truck driver shortage, and automated commercial vehicles."
"As a state safety official in both New York and New Jersey, Ray Martinez was a model of professionalism and fairness," said American Trucking Associations President and CEO Chris Spear. "He is an exceptional choice to lead FMCSA and now that he has been confirmed, we look forward to working with him to advance the cause of highway safety."
The Trucking Association of New York posted this to its Facebook page today:
TANY is pleased that Ray Martinez has been confirmed by the Senate as the new FMCSA Administrator.
TANY enjoyed an excellent working relationship with Mr. Martinez during his tenure as the NYSDMV Commissioner, where he prioritized the safety of the motoring public without ignoring the concerns of the trucking industry.
We are confident that he will continue to put safety in the forefront while considering the needs of the businesses who keep the economy going.
"While overseeing the New Jersey Motor Vehicle Commission, Ray was a consummate professional and we were able to work together to solve problems facing the motoring public and the trucking industry," said New Jersey Motor Truck Association Executive Director Gail Toth. "I congratulate him on his confirmation and look forward to him bringing his insight and experience as a regulator to FMCSA."
FMCSA has been under the direction of Deputy Administrator Cathy Gautreaux, who spent 30 years as executive director of the Louisiana Motor Transport Association.
The Senate Commerce Committee approved Martinez's nomination last November.