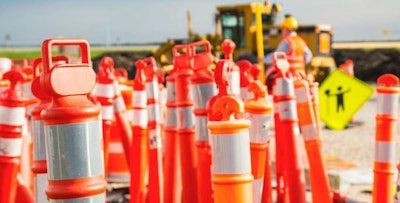 Ending more than a year of speculation, President Trump today released details of what he called "a roadmap for the Congress to draft and pass the most comprehensive infrastructure bill in our Nation's history."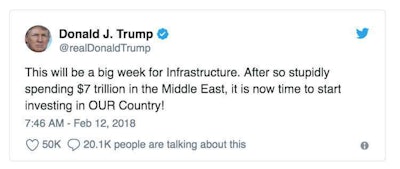 Included in the 55-page document are what have become Trump's familiar foundation themes: use limited federal funds to encourage investments by others and streamline the process by which projects are approved and permitted.
As they have in the past, trucking and transportation-related organizations objected to parts of Trump's plan.
Here are the key takeaways from the president's Legislative Outline for Rebuilding Infrastructure in America:
Trump proposes spending $200 billion in federal funds, most of which would come from cuts to other programs, to encourage a total investment of $1.5 trillion over 10 years
Use $100 billion of that federal money as incentives to encourage state and local governments and private entities to invest in projects
Spend $50 billion on projects in rural areas, everything from highways and bridges to high-speed broadband and water systems
The plan repeals the ban on tolls on interstate highways
It allows for the commercialization of rest areas
Just as they did when a six-page draft document outlining infrastructure funding plans surfaced in the media in January, trucking and related organizations expressed reservations.
At that time and again today, NATSO, which represents truck stop and travel center operators, slammed Trump's plans for increasing tolls and commercializing rest areas.
"Interstate tolls cost the government significantly more to administer and enforce than the existing motor fuels tax. Why would anyone fail to support an increase in the fuel tax and, at the same time, work to create another type of tax (such as toll roads) that costs more to collect than the fuel tax?" said NATSO President and CEO Lisa Mullings in a statement.
Mullings added, "We urge the President to reverse his support for rest area commercialization. Commercialization allows the government to hand-pick one company to operate exclusively at the state rest areas; this company behaves as a monopoly simply by virtue of its location on the highway shoulder or median."
The American Trucking Associations also reacted. ATA President and CEO Chris Spear said:
"It is heartening that the President is bringing the issue of infrastructure modernization to the forefront, but in order to address our nation's needs, it is essential we identify real and immediate sources of revenue that are conservative and fair like the Build America Fund.
"While the White House's plan kick starts this debate, it unfortunately falls short of the President's campaign promise to go big and bold, because it lacks the required federal investment. A proposal that relies on fake funding schemes like highway tolls and privatizing rest areas will not generate the revenue necessary to make significant infrastructure improvements.
"ATA has a solution to the funding question – the Build America Fund – which would generate $340 billion over the next ten years. This is the most efficient, conservative and viable approach to funding infrastructure.
"To be clear, new tolling on existing interstates is a non-starter for our industry. Tolls are ineffective and wasteful, with as much as 33 percent of revenue being wasted on administrative and overhead costs.
The Truckload Carriers Association issued a statement in response to Trump's infrastructure plan:
"TCA has often stressed that the time for an infrastructure package has been long overdue. While we applaud the plan's efforts to remove lengthy timelines and streamline the process in place to hasten these projects, we remain extremely concerned over the plan's reliance on tolls to rebuild America. Tolling has traditionally proven itself to cost our nation significantly more in administrative fees than the traditional fuel tax and its corresponding collection process. We support the idea that a federal fuel tax increase, indexed to an appropriate annual cap, would help create a sustainable Highway Trust Fund to aid in modernizing our nation's roads and bridges."
Trump's infrastructure plan was released the same day as his 2019 Fiscal Year budget, which totals $4.4 trillion. The proposed budget increases military spending while cutting funds for domestic programs.