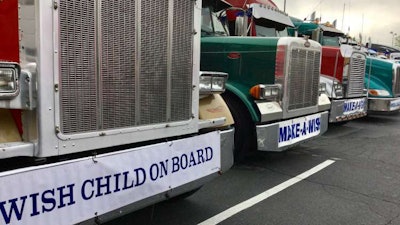 Expect heavier than normal tuck traffic in and around Lancaster, Pennsylvania this weekend. But, don't worry, it's for a good cause.
The 29th annual Make-A-Wish Mother's Day Truck Convoy — presented by RoadPro Family of Brands — is Sunday, May 13, and is expected to attract some 600 trucks.
With a new theme of "26 Miles – 50 Wishes", organizers say the goal is to raise $500,000, which they say would be enough to grant wishes to 50 children within the chapter's territory that covers the Philadelphia, Delaware and the Susquehanna Valley.
The event started in 1990 when a Make-A-Wish child requested a wish to ride in an 18-wheeler and talk on a CB radio. That year, more than 40 trucks and drivers came out to participate.
The top 30 fundraisers from 2017 will lead off the convoy, with the driver that raises the most money in pledges taking the first truck position. Many drivers will also have the opportunity of having a local Wish Child ride with them in during the convoy. Drivers must raise at least $100 to participate. Drives can sign up at www.wishconvoy.org.
The convoy begins at the Burle Business Park in Lancaster, and is open to the public. It includes the Convoy Carnival that is held from 8:30 a.m. to 3:30 p.m., and includes games, live music, auctions and food.
The convoy begins at 1:30 p.m. and travels the 26 miles to Ephrata and back.
In addition to sponsoring the event, RoadPro will also donate a prize pack valued at over $500 to be raffled off during the Convoy Carnival with all proceeds going to the Make-A-Wish organization.
For more information on the Make-A-Wish Mother's Day Truck Convoy and to find out how you can participate visit www.wishconvoy.org.