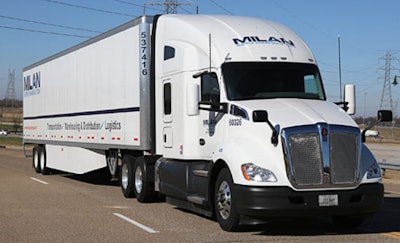 Milan Supply Chain Solutions, Inc., of Milan, Tennessee, today announced its acquisition of J&B Services, Inc., a regional transportation and logistics solution provider located in Pontotoc, Mississippi.
Milan operates a network of some 400-plus drivers, utilizing a fleet of company-owned, late model tractors and trailers. The company has a long-term customer base in attractive end markets including lighting, furniture, food and automotive, according to a statement from Milan, according to Amy Cowen, Milan's senior vice president for distribution.
The acquisition of J&B Services, which has 60-plus trucks, fits well with the Milan culture, allows for further geographic reach, increased brokerage capacity and expansion of the company's driver pool, said Cowen.
"We are pleased to welcome the J&B organization and their proven success and experience into our Milan companies," said Cowen.
Terms of the acquisition were not disclosed.