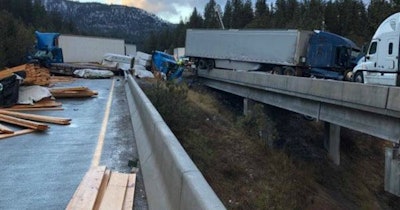 Two truck drivers died and a firefighter was injured in a pre-dawn, five-truck pileup on I-90 in Montana Wednesday.
Numerous reports say the mishap began when a tractor-trailer slid on black ice on a bridge on eastbound I-90 between Superior and Alberton near mile marker 47.6, spilling its load of lumber.
A second eastbound truck avoided the first but crossed the median and wound up in the westbound lanes. The Montana Highway Patrol reports the driver of that truck exited his truck and as another truck approached, he jumped over the bridge railing to avoid the truck and fell some 40 feet and died.
Another truck then hit the back of the first truck; its driver had to be airlifted to a hospital. A fourth wrecked, but that driver was uninjured. However, a fifth truck hit the pileup and its driver died.
In addition, a firefighter responding to the pileup slipped on the ice and fell off the bridge. They were transported to a hospital.
None of the drivers was identified; nor was the firefighter.