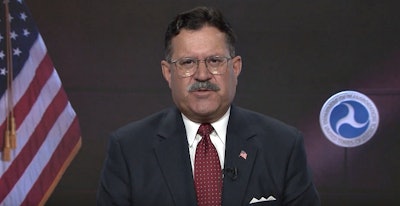 The Federal Motor Carrier Safety Administration late Friday afternoon said carriers do not have to comply with California laws requiring employers to provide workers with regular meal breaks and paid rest breaks. The trucking industry's leading trade organizations praised the agency's decision.
The agency's ruling comes in response to a petition filed in September by the American Trucking Associations asking that the agency exempt carriers from California's break laws. The ATA said California's rules were contrary to federal hours of service regulations. FMCSA agreed and said the 1996 Federal Aviation Administration Authorization Administration Act dictates that federal law supersedes state laws on regulating drivers' work schedules.
"Safety is FMCSA's top priority and having uniform rules is a key component to increasing safety for our truck drivers," said FMCSA Administrator Raymond Martinez. "During the public comment period, FMCSA heard directly from drivers, small business owners, and industry stakeholders that California's meal and rest rules not only pose a safety risk, but also lead to a loss in productivity and ultimately hurt American consumers."
The trucking industry's two major trade associations reacted to the announcement.
"This is a victory for highway safety, not trial lawyers," said ATA President and CEO Chris Spear. "The trucking industry supports our nation's economic growth by safely and efficiently moving goods across state lines, and this decision by the Department of Transportation will save jobs, unburden businesses throughout the supply chain and keep the prices Americans pay for food, clothing and countless other essential items affordable and accessible."
The Truckload Carriers Association Friday issued a statement that said:
As of 4:30 this afternoon, the Federal Motor Carrier Safety Administration has granted two petitions, one filed by ATA and the other by (the Specialized Carriers and Rigging Association), to preempt the California meal and rest break laws due to its hindering of interstate commerce. TCA filed public comments in support of the petitions, and we applaud FMCSA for recognizing the valid concerns of our industry.
TCA has been fighting for years on behalf of our members against California's onerous meal and rest break laws. Ultimately, this action by FMCSA is an important step toward creating a more reliable and consistent regulatory environment for truck drivers. A consistent set of rules directly benefits drivers, consumers, small businesses, and the American economy.