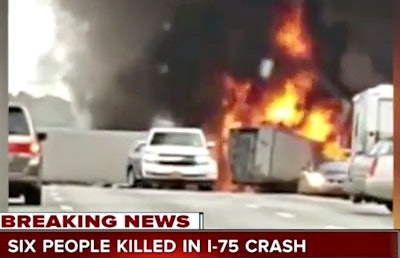 Seven people died and several others were injured in a crash and fire involving two tractor-trailers and two other vehicles Thursday afternoon on southbound Interstate 75 near Gainsville, Florida.
The mishap occurred at about 3:45 p.m. The interstate was closed in both directions for part of the evening. Florida Highway Patrol this morning reports both northbound lanes and one southbound lane are open.
FHP reports five of those who died were in a van that was involved in the collision. Police say another body was found in one of the trucks but did not know if it was the driver or a passenger.
No identities have been released, nor has the cause of the crash.
#BREAKING | At least 6 people dead, 8 injured in I-75 crash near Gainesville. https://t.co/AGNtbFxNYf pic.twitter.com/aFZwwCajPz

— Mary (@MaryStringini) January 3, 2019