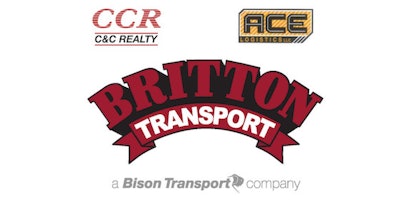 Britton Transport has acquired refrigerated fleet Ace Logistics and the warehousing facility C&C Realty, two Des Moines, Iowa-based businesses. As part of the acquisition, Britton Transport will take on 23 Ace Logistics drivers and 15 office, shop, and warehouse staff.
"While it is the end of operations for the companies my father and I started nearly 30 years ago," said Ace Logistics founder Charlie Colosimo Jr. "I am excited for our staff, drivers, and customers to join Britton Transport. They provide expanded back office, staffing, and customer support as well as offering additional services and reach across North America to our clients. For our staff and drivers, this also gives them immense opportunities joining the Britton family."
Colosimo will take on a warehouse management role at Britton Transport.
Britton Transport President Jim Stockeland said the acquisition will allow the fleet to acquire larger office and yard space in Des Moines and allow for its larger growth in the Iowa market.
"Britton is a family company, so when looking for opportunities to accelerate growth through acquisition, we target companies who share the same corporate DNA: family run and long-standing in their community with a great reputation. Ace and C&C fit this profile well," Stockeland said.
Britton Transport is a Bison Transport company operating nationally. It has offices in Grand Forks, North Dakota; Des Moines, Iowa; and Sioux Falls, South Dakota. The fleet provides a variety of transportation services, including refrigerated, flatbed, and general commodities.