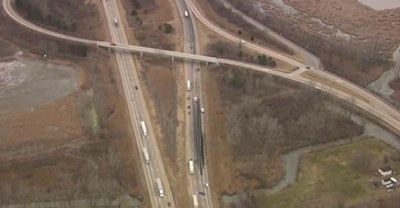 Northbound I-75 near the Michigan-Ohio border was closed for part of the day today as crews cleaned up the load of human waste that was spilled by an overturned truck. The spill happened around 9:45 a.m. in Monroe County between mile markers one and two.
The driver of the truck was not identified, nor were they injured. Police did not have a cause for the incident, according to media reports.
I-75 was reopened shortly after noon.
Some striking images from our crew on scene of the accident on I-75 NB at the Michigan border. According to police, no one was injured when a dump truck rolled over on the highway. One lane has been reopened but traffic is still significantly backed up. pic.twitter.com/Thv1VP3OdV

— WTVG 13abc (@13abc) January 10, 2019