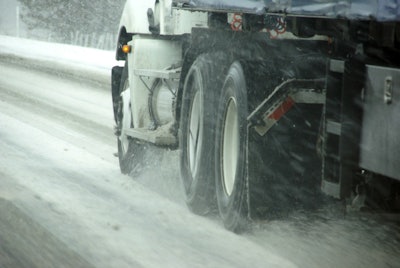 Two winter storms that could deliver rain, ice, and snow and complicate driving conditions from the Plains to the Northeast are expected to start Wednesday, Jan. 16 and continue through the weekend.
The first of the two storms is expected to spread light to moderate snow Wednesday night and Thursday from Nebraska and northern Kansas to central and northern Ohio and the southern part of Michigan's Lower Peninsula, according to AccuWeather.
The second, more serious storm, is supposed to deliver rain from St. Louis to Cincinnati Friday and Saturday. It's also forecast to bring "moderate to heavy" snow from Omaha and Kansas City to Chicago, Cleveland, Detroit, and Indianapolis, says AccuWeather. This is expected to make travel on I-80 and I-70 difficult on the weekend.
AccuWeather adds:
During Friday night and Saturday, blizzard conditions may develop over the central Plains and spread eastward across the Great Lakes and Ohio Valley states. Temperatures will plummet from the 20s, 30s and 40s F to the single digits, teens, and 20s. Northerly winds are likely to frequently gust between 30 and 45 mph at the height of the storm and in its immediate wake and spread from west to east during Saturday and Sunday.