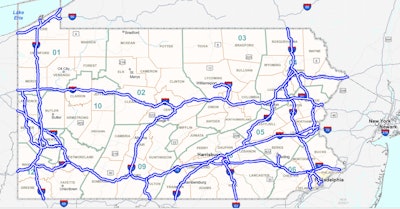 Ahead of the severe winter storm expected to deliver as much as 2 feet of snow across parts of the Midwest and Northeast this weekend, Pennsylvania Gov. Thomas Wolf today declared a state of emergency that bans commercial vehicle travel on most of the commonwealth's interstates and the Pennsylvania Turnpike.
The commercial vehicle ban will be in place between noon Saturday and noon Sunday on all interstates and the Turnpike, except for Interstate 95 in southeastern Pennsylvania. The ban will also be imposed on the U.S. 22 expressway in the Lehigh Valley and the Pennsylvania Route 33 expressway in Northampton and Monroe counties. See a map of restricted roadways.
State officials urge motorists to use caution during the storm, postpone travel if possible, reduce speeds and be aware of the potential for rapidly changing weather and roadway conditions.
The travel ban comes as the Federal Motor Carrier Safety Administration made an emergency declaration covering 12 states and suspended some regulations for trucks hauling fuel.
The winter storm bearing down on the Midwest and Northeast is expected to deliver as much as 2 feet of snow, high winds and blizzard conditions, severe cold and some ice on highways Saturday through Monday.
In addition, the Indiana Toll Road has issued a winter weather ban from today, Jan. 18, at 6 p.m. EST (5 p.m. CST) until Sunday, Jan. 20, 2019 at 6 p.m. EST (5 p.m. CST). The ban includes:
triple tractor-trailers

long-doubles (high-profile only)

high-profile oversize permit loads