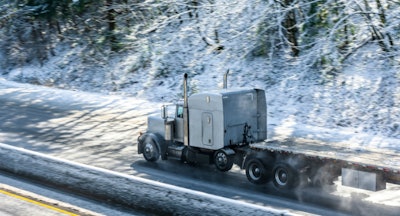 Last winter was difficult for truckers hauling throughout much of the country, but especially in Pennsylvania. Restrictions were placed on commercial vehicles seven times by the commonwealth, either slowing or stopping truck travel altogether.
Sometimes the shutdowns were caused by an accumulation of snow or snow combined with ice or high winds. Then again, there were times truck travel was interrupted by the threat of excessively foul weather.
Regardless of the reason, the truck restrictions prompted no small amount of grumbling and social media commentary from drivers who were inconvenienced. Contrary to popular belief, the Pennsylvania Department of Transportation officials were and are sensitive to trucker responses, and hope new winter road closing criteria due out before the snow flies this winter will address driver concerns.
Alexis Campbell is the press secretary for the Pennsylvania Department of Transportation and recently said the folks she works with hear driver complaints loud and clear and hope there will be fewer this winter.
"All the decisions are based on forecasts and they are made collaboratively between us, the Pennsylvania Turnpike Commission, the state police and PEMA, our emergency management agency," said Campbell, adding she hopes truckers and the rest of the motoring public understand restrictions and closings are not decided by one agency. "As soon as the decision is made, we communicate that (to the public and especially truckers) so that they can plan. We do understand that the decisions to restrict certain kinds of traffic on the interstates and some of the limited access freeways has impacts to the industry. We get that."
Sometimes, decisions to restrict commercial vehicle traffic may be influenced by what neighboring states do.
"We may also have to support other states' bans," said Campbell. "So if another state that our interstate connects to has restrictions, we need to plan what we're doing accordingly."
She said PennDOT and others also consult with the National Weather Service and AccuWeather, which is located in State College, Pennsylvania.
Campbell said PennDOT heard the frustration the trucking industry felt last year. She said the agency has had "a lot of really productive conversations with those folks as we prepare for this year. We're engaged with all of those different stakeholders to make sure that the way that we're implementing the restrictions makes sense and helps them be able to plan accordingly if they need to change routes or, or make other decisions.
"We understand that people don't always have a choice whether or not they have to travel on roads and truck drivers certainly fall into that category. We get that. I would reiterate that when we do need to implement a restriction on roads on the interstate system our goal is their safety and the safety of everybody on the road."
At the heart of any decision on any winter road closing is safety, said Campbell.
"Ultimately our goal is we need to keep people safe and we need to keep the public safe and we want to keep CMV drivers safe too," she said.
"When we implement restrictions we don't have big crashes that close interstates down," she said. "When there's a CMV crash, it's a bigger deal. Roadways can be blocked, there could be hazmat cleanup, all sorts of things can get more complicated."
Still, PennDOT and their partners are often second-guessed. Campbell said the agency does its best to meet the high expectations of state residents and those who, like many truckers, drive through the commonwealth. A survey PennDOT conducted earlier this year found that people expect the agency "to come in and plow and the roads (will be) perfectly clear and they expect that to happen within one to four hours, which is, as we know, not possible."
With winter weather just weeks away, PennDOT is preparing its resources to clear more than 94,000 miles of snow lanes — over 40,000 miles of highways in both directions, plus on/off ramps and other surfaces — this winter. It has refined its systems by which it notifies travelers of road conditions and the progress of its own 2,200 plows and the more than 400 private contractors it also uses.
____
David Hollis editor of Truckers News and can be reached at davidhollis@randallreilly.com