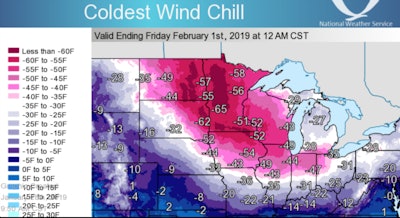 Brutal cold temperatures across much of the country have prompted the Federal Motor Carrier Safety Administration to suspend some of its regulations.
The FMCSA today announced it was expanding its emergency declaration to 22 states as a polar vortex descends into much of Midwest and Northeast. The agency has suspended some regulations including hours of service for those transporting heating fuels in:
Connecticut
Illinois
Indiana
Iowa
Kansas
Kentucky
Maine
Massachusetts
Michigan
Minnesota
Missouri
Mississippi
Nebraska
New Hampshire
New Jersey
New York
Ohio
Pennsylvania
Rhode Island
Tennessee
Vermont
Wisconsin
The Indiana Toll Road issued a travel ban from noon today through noon Tuesday. Prohibited are triple tractor-trailers, long-doubles (high-profile only), high-profile oversize permit loads.
The National Weather Service is predicting record-setting low windchill temperatures it says will reach "dangerous levels" in the upper Midwest this week. Temperatures could be the coldest since the mid-1990s in parts of the eastern Dakotas, Minnesota, Iowa, Wisconsin and northern Illinois.
"Some locations in the Midwest will be below zero continuously for 48-72 hours," according to AccuWeather Senior Meteorologist Mike Doll.
The severe cold is expected to last at least through Wednesday if not longer, and there is even snow in the forecast for parts of the South.
You can see a list of FMCSA's emergency declarations, waivers, exemptions, and permits here.
Not only is brutal cold invading the central parts of the country, Accumulating snow and freezing roadways all the way into the deep south could make travel dangerous through tomorrow morning. Check the forecast and travel conditions before you head on on your morning commute! pic.twitter.com/8jRAUCvIA3

— NWS (@NWS) January 28, 2019