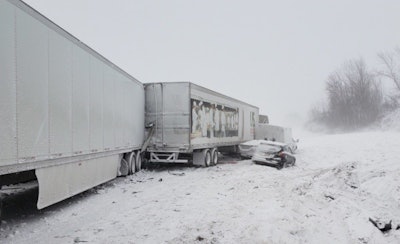 Don't put away your heaviest coats, warmest gloves and toastiest boots quite yet. Winter has an encore of the recent deepest of deep freezes lined up for yet this week.
AccuWeather says Arctic air is moving into the northern plains, across much of the upper Midwest and on into the Northeast. Parts of Montana and the Dakotas woke today to temperatures from minus 5 to minus 40 degrees.
Slightly less severe temperatures are said to be spreading east. Parts of Iowa, Wisconsin, upper Michigan, and northern New York can expect temperatures to drop to minus 10 degrees to about zero starting Saturday.
In addition, lake effect snow is expected Friday and Friday night along the southern shore of Lake Superior and the eastern shores of Lakes Michigan, Huron, Erie, and Ontario. AccuWeather says to expect slippery travel, poor visibility and blowing snow.
Winter storm watches are also posted for the Pacific Northwest.
Last week's arrival of the polar vortex drove temperatures to record lows and caused truck travel bans in several states a well as emergency declarations.