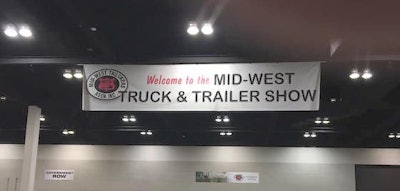 The Mid-West Truck & Trailer Show, which calls itself as the "biggest little truck show in the country," is set to return to the Peoria Civic Center in Peoria, Illinois this weekend, Feb. 1-2.
The event features seminars on hours of service regulations, DOT compliance, the use of cameras and technology, and other regulatory topics. A full of list of vendors is available on the truck show's site. Attending vendors include various Illinois government and law enforcement agencies, as well as representatives from the Federal Motor Carrier Safety Administration.
Trucks of all different makes, models, and years will compete in different categories as part of the show's Truckers Pride Contest. A People's Choice award will be given out to the truck most attendees vote for. A Driver's Choice award will be given to one winner chosen by the participants of the Truckers Pride Contest.
The show's annual Pinewood "Big Rig" Derby, which it started in 2013, also returns. Members of the Mid-West Truckers Association design and build their own model rig to compete with. Awards are given out for best design, fastest rig and best effort.
The show started in 1962 and is free to attend and explore the show floor. Attendees can register online in advance of the show if they wish to compete. To attend any meetings, attendees must pay $50 and they can do that on site.