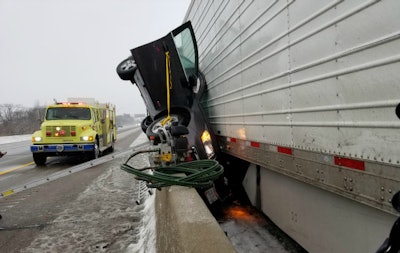 Somehow, no life-threatening injuries were reported in this accident that occurred Sunday afternoon on Interstate 70 near Ohio 4 north of Dayton, Ohio.
The Ohio State Highway Patrol told The Dayton Daily News the driver of the Chevrolet Cruze was taken to Soin Medical Center after being trapped in the vehicle, and that the driver is expected to be okay. The car's driver is said to have been cited for failure to keep control.
A post on the Bethel Township Fire Department Facebook page said weather did not play a part in the mishap. Neither driver was identified.