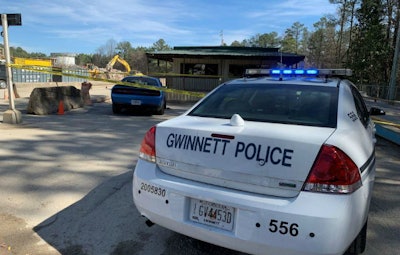 An altercation between a truck driver and a motorist at a Georgia recycling center ended in violence Friday and the trucker being taken to the hospital for a gunshot wound.
The Atlanta Journal-Constitution reports that the incident began after something fell from the truck that went to the Metro Green Recycling in Gwinnett County northeast of Atlanta. A motorist identified as 31-year-old Jamarsa Williams of Atlanta, followed the truck into the recycling center parking lot where a confrontation ensued.
The truck's driver hit Williams with a crowbar, according to police. Williams retrieved a handgun from his vehicle, returned and allegedly shot the driver once in the stomach.
Despite being wounded, the driver got in his truck and moved it off of the recycling center's scale.
Police arrested Williams arrested at the scene and charged him with aggravated assault.
The unidentified trucker was hospitalized. Authorities said he could face charges for his part in the incident.
At 4...the key evidence that helped police quickly sort out a dramatic road rage case that ended in gunfire. @wsbtv pic.twitter.com/ITI0QlTP54

— Aaron Diamant (@AaronDiamantWSB) February 8, 2019