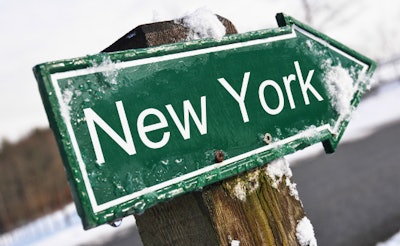 The National Weather Service has issued a high wind warning for Western and Central New York beginning at 10 a.m. Sunday and lasting through 10 a.m. Monday. The weather service said wind gusts could reach 75 mph in some areas.
So, starting at 10 a.m. Sunday, empty tractor trailers and empty tandems will be banned from the following highways in New York state
I-390 from Dansville to Rt 104
I-490 from I-90 exit 45 to I-90 exit 47
I-590 (full extent)
Rt 104 at the Bay Bridge
I-190 from Grand Island to Lewiston / Queenston
I-290 from I-190 to I-90
NY 5 from I-190 to NY 179 (with a full truck ban on the elevated section of the Skyway)
US 219 from I-90 to Peters Road
NY 400 from NY 16 to I-90
I-990 from I-290 to NY 263
I-90 between exit 31 (Utica) and exit 61 (Ripley to Pennsylvania state line)
Niagara Thruway (I-190)
The ban is anticipated to last through Monday morning.
Current forecasts are projecting that maximum wind gusts will reach 45 mph in New York City and on Long Island; 50 mph in the Mid-Hudson, Capital, Mohawk Valley, Central New York, and Southern Tier Regions; 70 mph across the North Country; and 75 mph in the Western New York and Finger Lakes Regions, according to the state.
There's the outlook for the entire country:
acf field="javascript_code_2″]