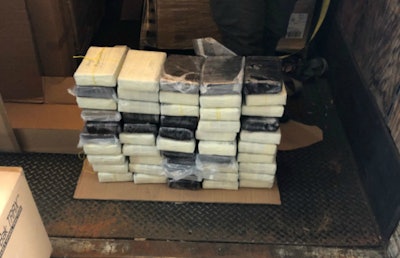 Illinois State Police report they arrested two men and seized 110 pounds of cocaine when they stopped a tractor-trailer on Interstate 55 Thursday, Feb. 21.
A statement from the ISP says they stopped a tractor-trailer on northbound I-55 near Towanda, Illinois for a commercial vehicle inspection. During the stop, according to the police, a trooper "observed indicators of possible criminal activity. A State Police canine alerted to the odor of illegal drugs within the semi-trailer."
A search of the trailer resulted in the seizure of the cocaine hidden within the freight inside.
Arrested for controlled substance trafficking, delivery of a controlled substance, and possession of a controlled substance were Brandon R. Weise, 35, of Murrieta, California and Miguel Martinez, 36, of Desert Springs, California. Both subjects were taken to the McLean County Jail and have been formally charged by the McLean County State's Attorney. A McLean County Judge has set their bond at $500,000 cash.