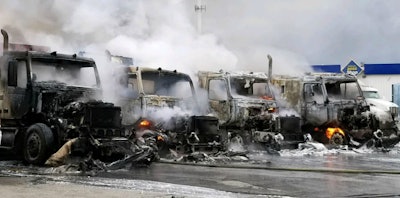 Four tractor-trailers were destroyed in a fire Sunday morning at a truck stop in Indiana.
The cause of the fire at the Flying J in Lake Station, Indiana southeast of Gary has yet to be determined.
Firefighters responded at about 7:50 a.m. and found the four trucks — all unoccupied — fully engulfed in flames.
No injuries were reported in the fire that was fought by three departments.