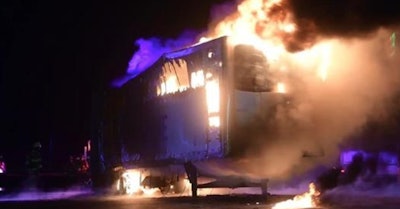 A tractor-trailer carrying groceries and water caught fire at a truck stop in Hunterdon County, New Jersey early this morning.
Flames broke out in the trailer around 3:30 a.m., according to WFMZ-TV. The blaze occurred while the tractor-trailer was parked at the Pilot truck stop on Route 173 in Bloomsbury, just off of I-78 exit 7.
No cause has been determined and one was hurt, state police told WFMZ.