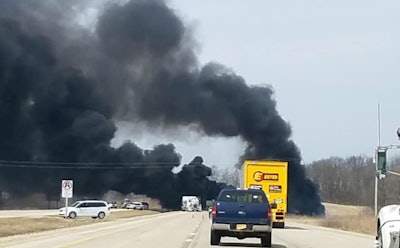 Illinois State Police Trooper Brooke Jones-Story, 34, was killed Thursday afternoon, when a tractor-trailer struck her, her squad car and the semi she was inspecting.
The incident occurred at about 12:20 p.m., while Jones-Story was inspecting a commercial vehicle on U.S. Route 20, just west of Illinois Route 75.
"Trooper Jones-Story was outside her squad car when she was struck and fatally wounded when a truck tractor semi-trailer combination struck her squad car and the semi Trooper Jones-Story was inspecting," the ISP said.
Trooper Jones-Story was a 12-year veteran of the Illinois State Police District 16 in Pecatonica.
The impact engulfed both trucks in flames. The unidentified driver who hit Jones-Story was ticketed and taken into custody, according to state police.
Illinois State Police mourn the loss of Trooper Brooke Jones-Story #5966.

She was struck by a truck tractor semi trailer while outside of her squad car on a traffic stop on US Route 20 near Freeport, IL.

Rest peacefully. We will never forget you.

End of Watch 3-28-19 pic.twitter.com/8WUNBmRW6S

— IllinoisStatePolice (@ILStatePolice) March 28, 2019
TROOPER KILLED: An Illinois State Trooper from District 16 has been killed in a fiery accident which happened during a traffic stop on US 20 near Freeport on Thursday, according to South Beloit Police. pic.twitter.com/0tHjVe9LZW

— Eyewitness News WTVO/WQRF (@MyStateline) March 28, 2019
#BREAKING: Illinois State Police Trooper killed in deadly US 20 crash near Freeport https://t.co/4TBk44WO8N

— Eyewitness News WTVO/WQRF (@MyStateline) March 28, 2019