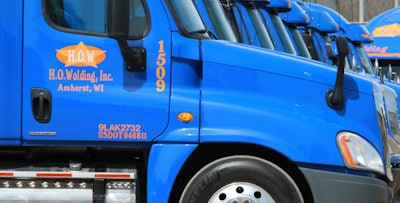 One of Canada's largest trucking companies, Bison Transport Inc., acquired family-owned H.O. Wolding, Inc., an Amherst, Wisconsin-based dry van fleet with truckload operations in the Midwest, Northeast, and Southeast of the U.S.
Terms of the deal were not released.
"The HOW acquisition represents a strategic investment in U.S. domestic transportation services that will work alongside Britton Transport, another of our U.S. subsidiaries, to add scale and provide a wider breadth of services to our customers," said Rob Penner, Bison Transport's president and CEO. "Our goal as the new owner is to empower HOW leadership with access to our expertise, resources and cost models. The people at HOW have built a great reputation for how they serve their customers and their team of professional drivers and we want to see that continue to thrive and grow."
Marc Wolding has accepted the role of president of HOW, which operates some 320 trucks.
"When Dick and I first discussed selling, we agreed that the most important factors in our decision would be the cultural fit and the commitment to the future of our people," said Don Wolding, past-president and CEO of HOW. "In early discussions with Rob, Don and Bison Transport's leadership team, it was clear to us that Bison was the right fit. They care about and invest in their people and they are highly focused on providing best-in-class service with (a) reputation as being North America's safest fleet."
Operating more than 1,700 trucks, Bison Transport is one of the largest carriers in Canada and is often recognized for its safety record. Bison is located in Winnipeg, Manitoba.