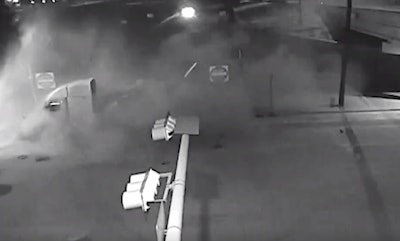 The driver of a bulk milk tanker suffered minor injuries after his truck went off Interstate 30 in Grand Prairie, Texas Tuesday morning and crashed onto the street below.
Grand Prairie fire officials told KXAS-TV the driver fell asleep while driving. The truck veered off the interstate, crashed through a guardrail and fell down an embankment.
The driver, who has not been identified, is said to be facing a charge of failure to maintain proper control.
Grand Prairie is located between Dallas and Fort Worth.
Here is video from this morning's crash on IH 30/MacArthur involving a tanker truck. We are happy to announce the driver has been released from the hospital with only minor abrasions. The cause of the accident is still under investigation. pic.twitter.com/qcbism3PdA

— Grand Prairie Fire (@GPTXFire) April 2, 2019