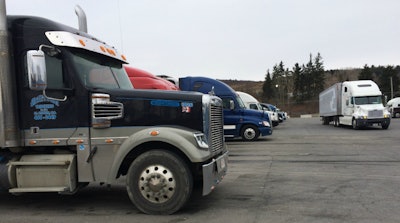 It's Thursday afternoon and the fuel island at the Love's just off Interstate 81 in Binghamton, New York just north of the Pennsylvania line is busy. As one driver finishes, they pull up and the spot behind them is filled like clockwork.
Tanks filled, drivers go inside to refuel themselves with coffee or a bag or two from the kitchen of the attached Wendy's. Heading back to their trucks, some have time to respond to questions about what is being promoted as a nationwide shutdown by truckers starting Friday.
To a person, none had even heard of the protest being advocated primarily by the Facebook group Black Smoke Matters. However, when told about its goals — changes in the rules for electronic logging devices and hours of service, advocating for more truck parking and improved driver training — drivers agreed with most of its aims.
Here are the drivers and what they had to say about the planned shutdown.
Mark Eseltine is an owner/operator from Champlain, New York, which is about as far north as you can go before crossing into Quebec, Canada on Interstate 87. He had loaded in Pittston, Pennsylvania Thursday morning with energy drinks and was headed to Colchester, Vermont. He had concerns of his own beyond those of the protest's organizers.
"Half of our problems are with DOT and half are with (the price of) freight," said Eseltine, who has driven for 26 years. "There are six DOT stops in 175 miles on I-87 between Albany and Canada. We provide the world with food and clothes and all the other essentials people need to have to live on and we get hassled the most."
As Eseltine fueled his 1988 Peterbilt he pointed at that day's diesel price of $3.34 and said he's been quoted $1.30 and then $1.20 per mile and last week had been offered 99 cents per mile for a delivery. But, it's not just the price of fuel that hurts. Eseltine said he and his son decided to take their other truck off the road because of what it cost to insure them both: $20,000.
Daniel Riley had just gotten his lunch before heading back on the road. A company driver on a dedicated run for SalSon Logistics, Riley has been driving for 16 years since a career in construction.
Like the other drivers at Love's Thursday, Riley was unaware of the shutdown, and added that his schedule had him home in nearby Sherburne the day of the protest.
Complaints about electronic logging devices are lost on Riley, who had spent a year as an owner/operator in the past.
"I like the ELD," he said. "It remembers when I don't. Now I don't have to worry about not having filled in the log when I stop for inspection."
Alex Slavon is company driver hauling a reefer through the Midwest and into the Northeast. He's been driving for two years and already is no fan of ELDs. Like many drivers, his complaint is about not having enough time to drive — and be paid — after waiting to load and unload.
"If I'm not driving, I'm not making any money," said Slavon, who came to this country from Ukraine about two years ago. He started driving because it was a profession in which he could begin earning decent money quickly.
Slavon said he plans to leave the reefer behind and find a stepdeck position and more money.
He too is already off on the day of the shutdown.
Tray (who gave no last name) has no real complaints. He's been behind the wheel for five years, and after having been over the road, today is a local driver for Key Logistics.
"I'm happy to be doing what I enjoy doing," said the Rochester, New York resident. "Every day is a learning experience and I enjoy that."
Margaret, who gave her last name as just "D.C." is a company driver and mother of three kids. She's been driving hazmat for a year "with no accidents!" she adds quickly and proudly.
"I support it (the shutdown) because of drivers' rights," she said. "There are a lot of concerns out there."
For Margaret, the big concerns are not having enough time at home with her family and knows that many drivers are concerned about how much money they make.
"I like what I do," she said. "I like it but I wish it was a little bit more for the driver," and she reiterated her wish for more time at home.
Mingo Sanhueza, while unaware of the planned shutdown, said he was "all for it."
An owner/operator on the road for 28 years, Sanhueza has no love for ELDs.
"I hate those things," he said. "All they do is keep you from making money. It's not about safety.
The results of an unscientific online poll on Trucks News Thursday found:
50 percent of the 878 respondents will participate in the shutdown

40 percent said they won't

10 percent were undecided
Those results are considerably different from a similar poll posted on January 29, which found:
75 percent said they would participate

25 percent said they wouldn't