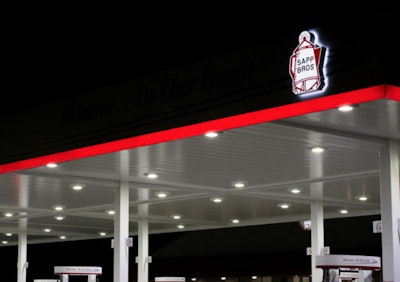 Two of the brothers who founded a well-known chain of travel centers died within five days of each other recently.
Lee Sapp, one of the founders of Sapp Brothers Travel Centers, died March 30 at the age of 90. His brother William Sapp died April 4. He was 86. They and two other brothers, ray and Dean, founded the travel center chain that today has 17 locations from Utah to Pennsylvania. The first location opened June 7, 1971 in Omaha, Nebraska.
Both brothers were in the military during the Korean War: Lee in the Navy and William in the Army.
William is survived by his wife of 66 years, Lucille Sapp; daughters, Suzanne (Wayne) Richard of Ashland, Nancy (Dan) Edwards of Gretna, Mary (Kevin) Ziegenbein of Ashland and Cindy (Robert) Rieke of Omaha; grandchildren, Abbi (Ryan) Eccleston, Andy (Julie) Richard, Alison (Brian) Reff, Molly Edwards, Matthew (Brooke) Edwards, Amy (Adam) Anderson, Alex (Ashley) Ziegenbein, Austin (Maribeth) Ziegenbein and Max Rieke; 13 great-grandchildren; sister, Zelma Drake; sister-in-law, Rose Sapp; brother-in-law, Glen Barnard.
Lee is survived by his son, Lee (Suzanne) Sapp of Ashland; grandsons, Brett and Conor Sapp; special friend, Ilma Gottula; sister, Zelma Drake; sisters-in-law, Rose Sapp and Lucille Sapp; brother-in-law, Glen Barnard. He was preceded in death by his parents, Hurless and Emily Sapp; wife, Helene Sapp; daughter, Lori Sapp; sisters, Velora Barnard, Irene Brubaker; brothers, Ray Sapp, Dean Sapp; sisters-in-law, Lenora Sapp, Susie Sapp; brothers-in-law, Guy Brubaker, Kenny Drake.
The Sapp brothers also founded several car dealerships and a bank.