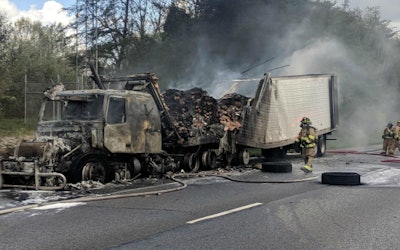 A tractor-trailer and its load of pies were destroyed by fire earlier this week on Interstate 64 in southeast Indiana.
WDRB-TV in Louisville reports the truck caught fire Sunday, April 14, afternoon in the westbound lanes of I-64 between the U.S. 150 exit to Greenville and exit 118 to Georgetown. Witnesses told firefighters the fire started at the rear of the truck.
The driver of the truck was not injured, and the cause of the blaze remains under investigation.