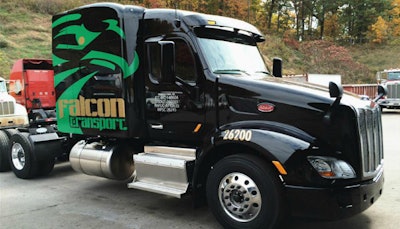 Trucking companies and individual truckers are using social media to offer assistance and in some instances jobs to drivers whose company abruptly shut down late last week, leaving them without jobs, pay, access to fuel or even a way home.
Falcon Transport, located in Youngstown, Ohio, sent emails to its nearly 500 drivers Saturday telling them to stop work immediately. The company is also said to have blamed a computer malfunction when drivers did not have their paychecks direct deposited as usual on Friday.
In all, 577 people are out of work: 89 office employees, 81 owner-operators and 407 company drivers, according to The Youngstown Vindicator.
The Youngstown Business Journal is among numerous media outlets that say Falcon Transport's Director of Operations Jayson Calhoun sent an email to employees Saturday saying:
"We regret to inform you that Falcon Transport Co. is not able to continue operations and will be shutting down effective today.
"Please stop any work you are doing for the company immediately. You are not expected to return to work. Please be on the lookout for further information we will be sending regarding this information."
Falcon is owned by CounterPoint Capital Partners, LLC. The private equity firm based in Los Angeles acquired the company in 2017 from the Constantini family.
Most reports of Falcon's closing blame it on the shutdown of the General Motors Lordstown Complex early last month. GM built its Cruze sedan at the plant. It was a major customer of Falcon, which had dry van and flatbed operations.
Calls to Falcon's headquarters to received a message saying it was not a working number.
Salt Lake City reefer fleet ShipEx was among the companies offering assistance to Falcon drivers. In a Facebook post (see below) the company offered "a ride home, a meal, or a new driving position."
Reaction to the ShipEx offer was "very positive." In a response to a message about its post on Facebook, ShipEx today said, "We made it because our own drivers saw drivers stranded at truck stops (even with pets) and reported it to us. We immediately jumped to action because no one should ever be left stranded. We care for drivers deeply and wanted to at least be able to get them food or home. Whatever is needed."
Joyce Sauer Brenny, co-CEO of Brenny Transportation, this morning offered Falcon drivers "a safe haven" at the St. Joseph, Minnesota specialized and OD carrier. She wrote, "Falcon Transport abruptly closed their doors yesterday. Drivers were left without fuel or pay! If any Falcon Transport drivers are stranded near St. Cloud, MN you can find a safe haven at Brenny Transportation, 8505 Ridgewood Rd, St. Joseph, MN. We will help find you a safe way home. I am so sad this happened to these drivers."
B&T Express, which is situated in Lima, Ohio, posted on Facebook that Falcon drivers "have a home here." Posted on Sunday, B&T added, "If you are stuck and need a hotel or a ride we will get you somewhere safe and near one of our terminals and get you employed! If you need advances …"
Hirschbach today posted: "If you are a driver impacted by the closure of Falcon Transport – or know a driver that is impacted -and need help getting home, let us know. We will get you a bus ticket back home. If you are in need of a driving opportunity, we will provide meals and transportation to orientation as well. We're here to help …"
Individual drivers also offered assistance:
Jimmy Levan: "Any Falcon drivers in the Birmingham, Alabama area that need any assistance msg me I'll try to help."
Matthew Ryan Meeker posted: "Any Falcon drivers stranded in the Houston area who need a ride home or food or anything contact me through messenger I will be in the area till tomorrow evening."
Wendy Cooper posted: "If any Falcon drivers are stuck on the road between Florida and Maine. We can pick you up and help you get home to a northern state in our route to Maine. You'll have to share a car with a bulldog, a parrot, and a very pissed off cat. 😂 But we'll try and help.❤"
In a statement released Sunday evening, Rep Tim Ryan (D-Ohio 13) said, "This is another example of how our system is rigged. It's infuriating that this economy continues to gut working class wallets while management attempts to cut their way to prosperity." Ryan's district includes Youngstown, where Falcon is located.