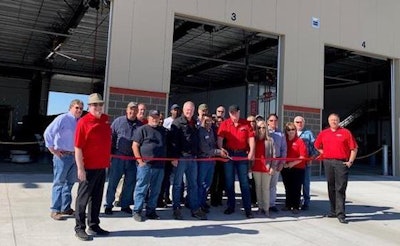 Heartland Express has opened two terminals, one new and the other remodeled.
The fleet recently hosted the grand opening for its new terminal in Frederick, Colorado, just north of Denver. The facility has a service shop with a truck wash, fully covered 24-hour fuel island, and service lanes. It has a 24-hour driver lounge with private walk-in showers, a laundry room with full-size units, sofas and recliner chairs, table seating, ice machine, coffee, and a large screen TV. The facility features an RFID software system for driver security. There are five acres of parking and an industrial WiFi network is available site wide.
The fleet also re-opened its remodeled terminal in Rancho Cucamonga, California. The 20-acre facility features the same amenities as the Frederick terminal and uses solar power.
Heartland Express CEO Mike Gerdin says the fleet has plans to spend an estimated $40-50 million on terminal-related projects in 2019, including the completion of the Frederick and Rancho Cucamonga terminal.
"These terminal projects are centered around upgrades, remodels, expansions and terminal amenities for the comfort and support of our drivers, including additions of truck wash facilities at certain locations. Our desire is to offer state of the art amenities to our drivers while they are away from home," Gerdin said.