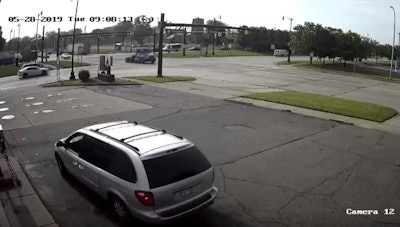 Two people died in a crash in suburban Detroit earlier this week when a motorist sped through a red light and slammed into a truck. The violent wreck Tuesday, May 28, was caught by a surveillance camera at a business near the intersection of Telegraph and Northline Roads in Taylor.
Somehow, the driver of the truck suffered what police said were minor injuries. WWJ Radio reports Heather Lee Hutchinson and Zachary Tyler Rich were the car's passengers killed in the crash. The car's driver, who was not identified, was hospitalized with serious injuries.
The radio station says, "Numerous witness told police that the car, driving southbound on Telegraph, was going at a high rate of speed and was weaving in and out of traffic, police said."
The truck's driver was not identified.
Taylor is located southwest of Detroit.
Detroit News Man, woman killed in crash involving semi truck, car in Taylor https://t.co/rkof2x7RAb pic.twitter.com/nxoCNOFKaj

— Detroit NewsChannel (@Detroit_NC) May 29, 2019