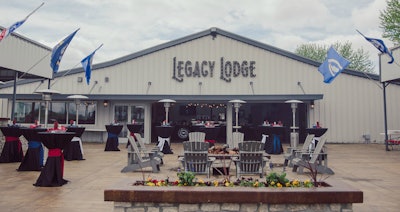 Tri-State Trucking celebrated the grand opening of its resort-style driver lounge, called the Legacy Lodge, at its main Joplin, Missouri terminal recently.
The original building was built in the 1950s and was largely outdated and unused. Roadmaster Group's CEO John Wilbur recruited Jeff Swenson of Swenson Realty Group to reimagine the facility. (Tri-State is a part of the Roadmaster Group, which is a Daseke company.)
Gutted and stripped to the ground, the structure was renovated to feature numerous driver amenities. It now features:
full commercial kitchen
fitness center
media rooms
laundry center
men's and women's locker rooms
business center
showers
pool table
shuffleboard
Outside there's a large, lighted patio with a fire pit and barbecue island.
The almost 10,000 square foot lodge also serves as Tri-State's orientation and training center.
"John's vision is above and beyond to have a nice place for our drivers to come to here in Joplin," said Theresa Porter, Tri-State's hiring and development manager.
The building was dubbed the Legacy Lodge in tribute to the company's history. Tri-State was founded in 1931, and its Joplin, Missouri terminal features plenty of the company's memorabilia. On display at the Legacy Lodge is a 1947 White truck, which the company uses periodically for parades.
"Our employees are the heartbeat of our company and we wanted to show them in a unique way exactly how much we appreciate their hard work and loyalty," Wilbur said. "It was named Legacy Lodge to honor the rich history of Tri-State, which was founded in 1931, and the many employees who have worked with us for decades."
Onsite at the lodge is Trudy Stroup, who drove for the fleet for 20 years before coming off the road and signing on to be the lodge attendant. Stroup helps keep the lodge stocked on essential supplies and ensures that the facility is running smoothly.
"It looks like a lodge that you would find at a resort in the woods somewhere. It's just so comfortable and it's got a real homey feel to it. Everything there is to help the drivers do their jobs better," Stroup said.