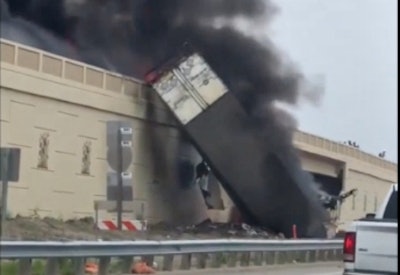 Two truck drivers — one who is being called a hero — died in a horrific, five-vehicle crash on Interstate 94/41 about 25 miles south of downtown Milwaukee Wednesday, June 19, morning.
Three other motorists were injured in the crash that occurred at about 11:30 a.m.
Authorities have yet to release the identities of anyone involved in the crash, which Racine County Sheriff Christopher Schmaling told The Milwaukee Journal Sentinel was the worst he had ever seen.
Authorities say:
a southbound tractor-trailer struck a concrete median barrier and caught fire in a construction zone near the state Highway 20 interchange
three cars struck the barrier, which had been pushed into the northbound lanes
a northbound tractor-trailer swerved to miss those cars, left the interstate and burst into flames
Both truck drivers died in the crashes, two of the other motorists were seriously injured and the other had minor injuries, according to police.
Schmaling told the Journal Sentinel the semi driver who swerved to avoid the crashed northbound cars was "a hero" who saved lives.
The interstate was closed in both directions well into Wednesday evening.