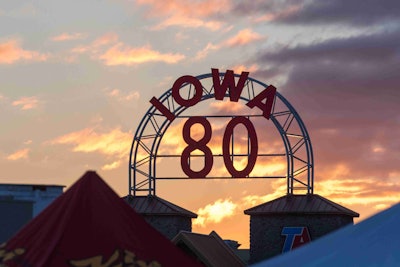 The annual Walcott Truckers Jamboree and Shell Rotella SuperRigs truck shows are two of the biggest events on the trucking industry's July calendar. Smaller antique truck shows make up much of the rest of the month, courtesy of the American Truck Historical Society (ATHS).
The Walcott Truckers Jamboree is celebrating its 40th anniversary at this year's show, July 11-13 at the Iowa 80 Truckstop (Interstate 80, Exit 284) in Walcott, Iowa. The show features a truck beauty contest, antique truck display, games, live music, exhibitors, its annual Trucker Olympics, and more. Admission is free.
The 37th annual Shell Rotella SuperRigs truck show is July 25-27 at Trails Travel Center off of I-35 in Albert Lea, Minnesota. The competition is a truck beauty contest for actively working trucks. Truckers from across the United States and Canada compete annually for more than $25,000 in cash and prizes. Twelve drivers will be selected to have their trucks featured in the 2020 Shell Rotella SuperRigs calendar.
The Commercial Vehicle Safety Alliance's Operation Safe Driver Week is scheduled for July 14-20. It will focus on commercial motor vehicle drivers and passenger vehicle drivers engaging in dangerous driver behaviors, including and especially speeding.
Here's what's happening in July:
July 5-7: ATHS Outville Power Show in Pataskala, Ohio
July 6: ATHS Steel Valleys Truck Show at Kenworth of Pennsylvania in New Stanton, Pennsylvania
July 11-14: ATHS Kickapoo Chapter Truck Show at I&I Historic Farm Days in Penfield, Illinois
July 11-13: Walcott Truckers Jamboree at the Iowa 80 Truckstop in Walcott, Iowa
July 13: International Motor Truck Gathering at Sones Transportation in Muncy, Pennsylvania
July 13-14: ATHS Long Island Chapter Antique, Classic & Working Truck Show at Long Island Antique Power Association Show Grounds in Riverhead, New York
July 14: ATHS CNY Chapter Truck Show at Long Branch Park in Liverpool, New York
July 14-20: Commercial Vehicle Safety Alliance's Operation Safe Driver Week, nationwide
July 19-20: Gulf Coast Big Rig Truck Show at Mississippi Gulf Coast Coliseum & Convention Center in Biloxi, Mississippi
July 20: Log Truck Show at Collier Logging Museum in Chiloquin, Oregon
July 20: ATHS Northwest Chapter Annual Truck Show at Marymount Event Center in Tacoma, Washington
July 20: ATHS Antique Truck and Tractor Show at Waterman's Lions Park in Waterman, Illinois
July 20: Central Coast Cooler Antique Truck Show at Nipomo High School in Nipomo, California
July 20: ATHS Palouse Chapter Truck Show in Bovill, Idaho
July 21: Upper Delaware Valley Truck Show at Wayne County Fairgrounds in Honesdale, Pennsylvania
July 25-27: Shell Rotella SuperRigs at Trails Travel Center in Albert Lea, Minnesota
July 26-27: ATHS Bluegrass Chapter Show at Bourbon County Fairgrounds in Paris, Kentucky