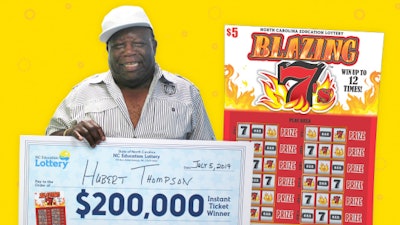 A veteran truck driver added almost $150,000 to his retirement account in one lump sum recently.
Hubert Thompson, who has been driving trucks for 41 years, won the $200,000 top prize in NC Education Lottery's new Blazing 7's game. The Whitehall, North Carolina man said he will add the $141,501 (after taxes) to his retirement savings. Thompson said he plans to retire in a year or two.
According to a release from the lottery commission, Thompson likes to try new games so when he saw the $5 Blazing 7's tickets. He said he won $5 on the first ticket and then $200,000 on the second.