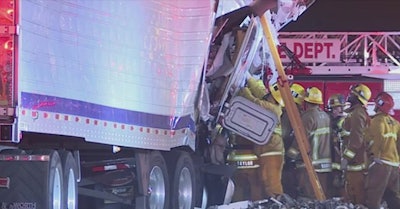 The driver of a tractor-trailer loaded with produce died late Wednesday night when his truck struck a bridge pillar on the southbound 5 Freeway in the Sylmar neighborhood of Los Angeles.
KCAL-TV reports the crash happened at about 11:45 p.m. Wednesday on the freeway's truck route near the 210 Freeway. A California Highway Patrol spokesman said the "truck drifted left and struck the bridge pillar." A passenger who was trapped in the truck was extricated and hospitalized with what are said to be serious injuries.
CHP continues its investigation.